Photo and Listing Description Copyright © 2006, 2007, 2011
The Tarheel Gunner, All Rights Reserved
Shipping in the U.S.
is only 75¢
by USPS First Class Mail!
FULL-MOON CLIPS FOR
.45 ACP REVOLVERS
A set of five,
blued, tempered spring steel clips that hold a
full six rounds each in one compact unit.
Designed to fit Colt Model 1917, Smith & Wesson Model of 1917, S&W Target Model of 1950, S&W Target Model of 1955, S&W Model 22, S&W Model 25, S&W Model 26, S&W Model 625, and S&W Model 325 revolvers, chambered for the .45 ACP/.45 AutoRim cartridges. These clips will also fit most Webley Mark I, Mark II and Mark VI revolvers rechambered for the .45 ACP cartridge. And, they will fit the new Smith & Wesson Governor personal defense revolver.
Reusable hundreds of times.
For law enforcement, civilian defensive use, IPSC and IDPA competition, bowling pin competition, or steel plate competition, there is no faster reload.*** All six empty cases eject as a single unit, and six fresh rounds can be chambered simultaneously with no fumbling, no speedloader to juggle, no knob to twist or button to press.
***(On 24 July 1999, at an exhibition in West Point, Mississippi, competition shooter Jerry Miculek set a new world record for 12 aimed shots, with a reload, from a revolver. At a distance of 15 feet, he fired six shots, reloaded, and fired six more into the scoring area of a standard competition target. Recorded electronically by three separate timers, his time from first shot to last was 2.99 seconds; his equipment included a .45 ACP S&W Model 625, 230 grain ball ammunition, and full-moon clips.)
For casual recreational shooting or hunting, different loads can be quickly and easily swapped without fooling with loose rounds. Need to drop in shot loads? Need a cast bullet load instead of JHPs? No problem, and no fumbling.
Two loaded clips, twelve cartridges, will fit, stacked, in a belt carrier for one Safariland or HKS N-frame speedloader; four loaded clips, twenty-four rounds, will fit, stacked, in a standard 2-pocket N-frame speedloader belt carrier. With those in the revolver chambers, you will have thirty rounds in the same space as eighteen before.
Shipping anywhere in the U.S. is $-.75. Insurance additional, at buyer's request. Shipping outside the U.S. will incur additional postage charges.
I now have Case Removal Tools available
- just ask!
ammunition, cartridge, bullet, clip, revolver part, gun part, gun accessories, speedloader, speedloading accessories, storage, military weapon part/accessories.
If you need more clips
than what is in this auction,
please let me know
before you make your payment.
Payment can be by money order, check (must clear before shipment), or via PayPal (preferred).
**** *** ** * ** *** ****
** **** ****** **** **
Pay me securely with any major credit card through PayPal!
Now Available for International Users!
** **** ****** **** **
**** *** ** * ** *** ****
Photo and Listing Description Copyright © 2006, 2007, 2011The Tarheel Gunner, All Rights Reserved Shipping in the U.S.is only 75¢by USPS First Class Mail! FU
Shipping by USPS First Class Mail.
(NOT SPECIFIED)
---
Hide Pictures If you've got a slow modem, give this a try (must have cookies enabled) ...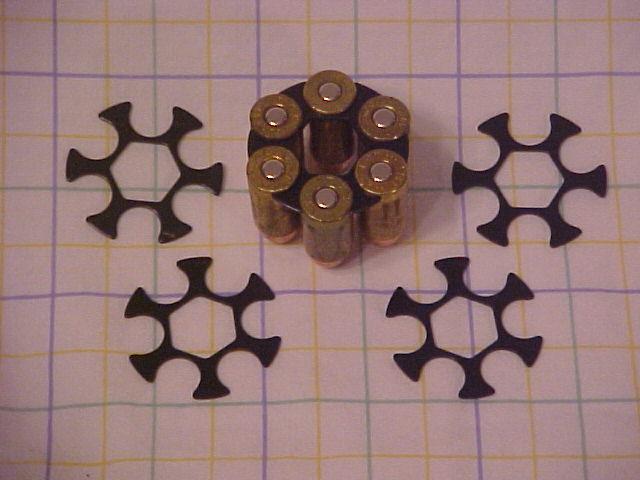 Buyer Tip: Seller assumes all responsibility for listing this item. If you have any questions regarding this item, you should contact the Seller before bidding. You can contact the seller by clicking on the seller's nickname.