TYPE15BLACK SABOT - FIRST CARTRIDGE ON THE LEFT IN PHOTO. ************** The UZI RMINI30 project ********** The most famous Israeli gun designer was a German Jew.********** He was born Gotthard Glas. He took the name Uziel Gal as an Israeli officer. The submachine gun which he invented carried his name into immortality. The "UZI" submachine gun made him the best known gun designer in the world. Even the world class AK47 is known more by that name than for the inventor. The UZI is known by his name. **********Like many inventors in the employ of governments , universities and corporations he profited little from his invention. He did receive the highest of praise. He was awarded the first "Israel Security Award" for his work which was presented by David Ben-Gurion the Prime Minister of Israel. **********Fame and praise do not always translate into wealth. Uzi assigned his patent rights to Israel and never made a dime from the manufacture of the gun by IMI . In Uzi's case it was to be a struggle. **********Uzi wanted to make money. In the early 1970s he moved to the US to obtain necessary medical care for his daughter and to pursue a career as a free lance weapons designer. He founded Gal-Tech LTD. and Uzi Research and Development Assoc. and worked as a consultant to the US military , Action Manufacturing Company , Action Arms Ltd. , Inverse Technologies , Knight's Armament , Ruger , Hollywood and other projects . **********Uzi was not a businessman and found himself in a position which required him to sue his top two employers. He sued Actionarms for unpaid royalties on his inventions and won. He sued IMI ( Israeli Military Industries ) to recover his name for commercial use and lost. This is a story about a secret project worked in conjunction with Actionarms and William Ruger which Uzi hoped to be the commercial success which he wanted. It was not to be. **********The most produced U.S. rifle of the WW2 era was the M1 carbine. Over 6 million were made in the U.S. during war time and more afterwards. The weapon has its detractors but has always had far more who like and praised it for its ease of use. What became of all of these millions of M1s ? Some were lost to action and use , some were dumped into the oceans in various programs designed to dispose of excess ordnance , some were sold commercially in the U.S. and elsewhere in surplus actions , many were still in use through Korea to Viet Nam where they were used on both sides. Many more of the M1s were sold or transferred as foreign military aide. Many went to Israel where they are still in use today and have been for a couple of generations. **********Uzi knew that there was a potential commercial market to upgrade and modernize the thousands of M1s still in use in Israel and elsewhere and set out to develop a system of easy , low cost conversion of existing weapons to present a modern product and experimentation to enhance the M1s major weakness ; its ammunition. **********M1 carbine ammunition is widely criticized for short range and low impact lethality. The arguments go on and on still today. A high velocity , practical load for the M1 carbine would be a money maker and a major selling point for any new system. **********The following statement from David A. Lutz Lt. Col. USMC (Ret'd) VP MilOps KNIGHT'S ARMAMENT states the case well. "As a Major in the U.S. Marine Corps I was assigned as liaison to the Army's Picatinny Arsenal from 1980 to 1983. During that period I attended a briefing given by Uzi on his concept for a smaller, lighter weight weapon for combat short of 300 meters that used such high velocity discarding sabot M1 Carbine ammunition. As I remember, Uzi wanted a round with a flat enough trajectory that the Soldier never need fool with the sights across his immediate battle space. He was convinced that 95%+ of the modern Infantry battlefield for infantry rifle shots would be less than 300 meters; and the vast majority of those at less than 100 meters. I also remember him saying that we in the US spent way too much money making our barrels accurate for long range target engagement, when it was such a rarity for that to occur. He sighted S.L. A. Marshals WWII infantry studies to validate this. The Army Small Arms R&D community there liked this feature of his presentation as they were using the same short range statistics to support some of their programs. I think Uzi's approach was also somewhat the result of how Israel views their land warfare threat. By that I mean they are really oriented to defense with combined arms all supporting one another. He was also thinking cost and strategic material reduction by reducing the cartridge size to match the shorter range requirement".********** How to proceed ?********** Uzi was not well pleased with IMI. 1) They had used his name on the famous gun against his will. 2)They had not adopted his assault rifle design but opted in favor of the Galil. 3) He had lost the suit against them to recover the use of his name in commerce. Three strikes is usually enough for anyone in the US. Uzi decided to work on this project with a U.S. company and chose ACTIONARMS with whom he had been working on developing other projects and who were the U.S. importer and distributor of UZIs. This did not work out and after the law suit which recovered considerable money for Uzi he went looking for another company to work with on the carbine project. He chose RUGER. **********Why Ruger ? Ruger had made a good business redeveloping the M1 carbine into the Mini14 and other guns which were easy to use and sold well. In addition Bill Ruger was someone Uzi could work with. Their collaboration resulted in the successful Ruger MP9 submachinegun. **********The carbine project R30C was not successful.********** Making a conversion unit for the M1 carbine was not a major problem and it was done by others including IMI with the MAGAL , Advanced Combat Systems with the SM1 and others. Uzi was familiar with MWG's muzzlelite conversion of the mini14 from his movie work and considered that as well as a .30 carbine caliber version of the Uzi SMG. The .30 Uzi was not practical and the muzzlelite conversion of the mini14 in .30 carb was never to be. They could not get the ammunition to work in an auto loading weapon. It worked well as a single loading cartridge with its long sleek projectile carried at high velocities in a discarding sabot. Good range , good penetration , great accuracy but not a practical design for an auto loading weapon. Special long barreled BLACKHAWK revolvers in .30 carbine caliber were used for testing the numerous designs. The problem; a straight case and a long spire point bullet in a sabot with even a minimal shoulder will not load automatically reliably. A spire point in a necked case like the FN 5.7mm will load if the case is large enough and the bullet is short enough. Uzi's 30carbine DS ammo would not work and by the time this was determined IMI had seen the market and captured it.********** This left a couple of benefits for the U.S. shooter - collector market. The Ruger Mini30 was developed but not in .30 carbine caliber. It was released in 7.62x39. Accuracy was always a problem with the 7.62x39 cartridge in these guns and some experimentation was done with these Uzi projectiles. This was not successful.THE INITIAL PROTOCOL FOR THE MINI30 WAS FOR A RIFLE IN 7.62X51mm NATO. Of most importance to ammunition collectors is the beautiful spire point DS ammunition.********** Gun designers and ammunition designers are not usually the same type of person. The concerns differ. This project proved that clearly. The ammunition project went through dozens of sabot designs in an attempt to prove what had previously been established. It could never have worked. Consultation with any advanced military ammunition collector could have saved many thousands of dollars and much effort. **********The designs went through a variety of caliber changes and numerous sabot designs. The 30/20 caliber design was produced in flat based and boat tail projectile. The 30/223 designs used a variety of standard .223 projectiles in various sabots. The 30/224 was produced in many variations and combinations of load , projectile , and sabot, nothing was standardized. ********** THIS IS THE UZI 30/224 NATO TYPE15 WITH BLACK SABOT .*************************** MANY YEARS AGO I BOUGHT A COLLECTION OF TEST AMMUNITION FROM A RUGER FOREMAN. THE BOX SHOWN HERE WAS INCLUDED. IT DEMONSTRATES THAT AT LEAST 18 VARIOUS LOADS WERE TESTED IN THIS CALIBER AND CASE TYPE. ************ THIS SALE IS FOR ONE LOADED CARTRIDGE . IN ADDITION PHOTOCOPIES OF SEVERAL OF UZI'S BUSINESS CARDS FOR HIS U.S. BUSINESSES ARE INCLUDED.******************
TYPE15BLACK SABOT - FIRST CARTRIDGE ON THE LEFT IN PHOTO. ************** The UZI RMINI30 project ********** The most famous Israeli gun designer was a German
Minimum shipping by UPS ground for 2 pounds or less is $14 East of the Mississippi and $16 West. Purchases will be combined to save shipping charges. Payment by Paypal , check or M.O. John Schmitt CSA PO BOX 4002 Colesville Md 20914.
---
Hide Pictures If you've got a slow modem, give this a try (must have cookies enabled) ...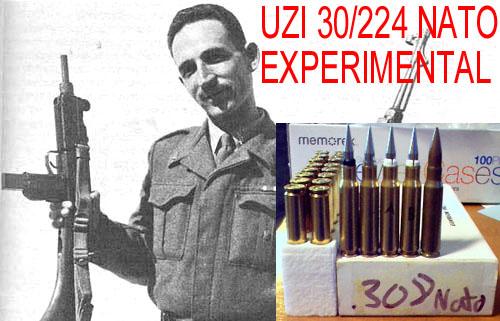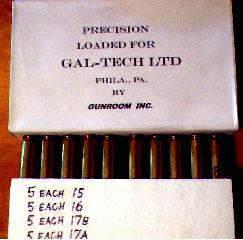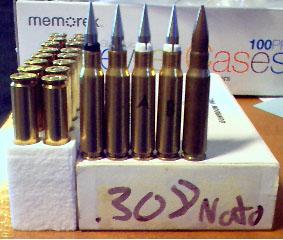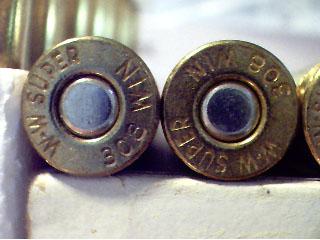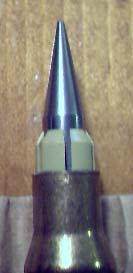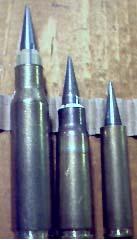 Buyer Tip: Seller assumes all responsibility for listing this item. If you have any questions regarding this item, you should contact the Seller before bidding. You can contact the seller by clicking on the seller's nickname.