pSTYLE FEMALE URINATION DEVICE
BEST NEW PRODUCT FOR THE ACTIVE WOMAN

A STAND-TO-PEE DEVICE THAT'S IDEAL
FOR ALL OUTDOOR ACTIVITIES

*** BRAND NEW PRODUCT ***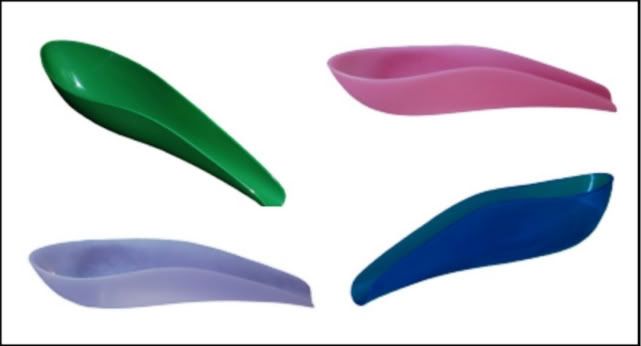 Female Urination Device by pStyle
allows you to stand up and pee!!
The pStyle is a simple, stylish plastic device that allows you to pee standing up without undressing. The pStyle eliminates the need for toilet paper. It is a simple design that works exceptionally well. The pStyle is easy to position properly and the rounded edges are very comfortable. Because it is made of rigid plastic, the pStyle is easily maneuvered into the clothes you are wearing. The rounded back edge can be used to wipe with so there are no drips! It is easy to clean by shaking vigorously or rinsing. The pStyle is available in Blue, Pink, Green, Clear and Lavender.
People may ask "Why would I want to stand up and pee?" Until you see the the pStyle in action you may have trouble visualizing its advantages. It's all about convenience, comfort, and safety. The pStyle makes it faster, easier, safer and more discrete for the user to pee when needed. You can keep your clothing on, which means you don't have to worry about exposing yourself to others or the elements. No need to grapple with clothing that is hard to remove such as a ski suit, backpack, or riding britches. If you have trouble sitting or squatting or don't want to for any reason - you don't have to - just use the pStyle.
You will be amazed at how simple and effective this device is!!
A STAND-TO-PEE DEVICE THAT'S IDEAL FOR
Sports & Recreation, Outdoor Occupations, Physical
Restrictions, Public Events and Travel
or anytime it's not practical to sit or squat.
Here are just a few examples of times when a pStyle comes in really handy:

Anything outdoors - camping, back packing, skiing/snowboarding, rock climbing, bike trips, kayaking trips, hiking, caving, horseback riding, hunting, fishing and boating.
Outdoor work - military, farming, ranching, landscaping, construction, gardening.
Travel and public events - music festivals, road trips, using urinals, any place with limited or unsavory public toilets.
Physical reasons - sprained or broken bones, knee problems, etc.
pStyle Advantages:
Ergonomic design is easy to use
Can be used while fully clothed
Eliminates the need for toilet paper
Reusable and easy to clean
Compact and easy to carry
The pStyle measures approximately 3.8 cm (1.5 in) tall, 3.8 cm (1.5 in) wide and 19 cm (7.5 in) long. Complete instructions for use and care are included.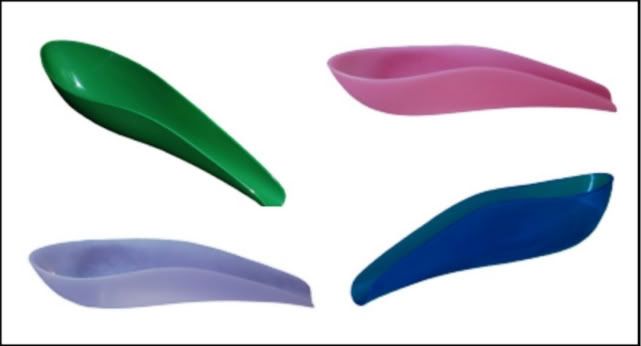 Available Colors: Blue, Pink, Green, Clear and Lavender.
PLEASE SPECIFY COLOR WHEN ORDERING.
---

---
ADD A CARRYING CASE
Going out? Bring your pStyle along in a spiffy, custom designed pCase, available for an additional $8.99 with the purchase of a pStyle! The pCase features: Secure velcro closure; Machine washable; Belt loop; Made in the USA. The pCase comes in assorted colors that change constantly, so ask us what pCase colors we have available when you order your pStyle.
---
---
CARE & USE OF THE pSTYLE
How to use the pStyle
Loose pants with a zipper and underwear with a fly are ideal but other outfits can be accommodated. Pull underwear to the side if it doesn't have a fly, taking care that it is fully out of the way. Place the pStyle so the widest part is between your legs, centered under your urethra and pressed firmly upward. Tilt the open end slightly down, relax, and pee. Bend your knees slightly and pull the pStyle slowly forward with firm upward pressure to remove the remaining drops. You can practice your technique in the shower.
Cleaning the pStyle
If it is convenient, wash the pStyle with soap and hot water. Otherwise simply rinse with water – even a water bottle will do. If neither option is available shake the pStyle vigorously – this removes most of the urine – and wash it at the next convenient time. Sanitary wipes can also be used to clean it. The pStyle is dishwasher and washing machine safe.
Tips to stop drips
Wait a moment before wiping with the pStyle. Do a few kegel exercises to fully empty the bladder. Bend your knees deeply and focus on using a firm, slow, upward motion to wipe. If the back end of your pStyle has become compressed and narrow (less than 3.2 cm/1.25") put something about the size of a golf ball in it overnight to make it wider again.
Carry the pStyle in
Bike bags, cargo pockets, backpack, glove box, deep tool pocket in work pants, any pocket with a zipper or Velcro, purse, saddlebags, or fanny pack. Wherever you carry it, be sure it is secure. And be sure to check out the custom-designed pStyle Carry Cases that we have available - a handy case that fits on your belt or in your purse, designed specifically for the pStyle.
Read what customers say about pStyle:
"My mister & I are on the road for three months and already I have used my pStyle more times than I can count. I have given them as birthday, Christmas & wedding gifts. LUV my pstyle!"
-Jessica, San Luis Obispo
"My friends and I ride horses about 4 to 5 days a week and don't know what we did before we discovered the pStyle. In fact, one of my friends has gotten so good at it that she literally stands beside her horse's shoulder, while in a group, and pees. What a hoot she is and you never see a thing. What a great invention. Thank you again."
-Pat
"I was given a pStyle for my birthday and I LOVE IT! I use it at every music festival for those very scary afternoon toilets. It went everywhere with me in Italy, which has some very dodgy holes in the ground. I love it. I'm buying one for my car. "
-Jen, New Mexico
"pStyle for the over 60 set! I had a total hip joint replacement and there is a 90 degree rule during rehab which means you can't sit on regular public toilet seats as they are too low. The pStyle saved me!"
-Georgia, Vermont
"The pStyle is FANTASTIC! I'm an avid boater and angler, and the pStyle has made bathroom calls so convenient. No more quick runs to shore. No more embarrassing "back of the boat" episodes! It's easy and it's discrete. Every lady angler needs one of these!!"
- Linda, Tennessee
"I just want you to know that the pStyle is just about the greatest thing a girl could have! I call it the "equalizer", because now I have the same freedom that the guys do! I spend a lot of time outside, in the woods and on trails, and the pStyle really has made my life easier. It works absolutely perfectly, and is so easy and discreet! Some years ago I had purchased one of those ones called a "Lady J" (I think), but that thing just didn't work for me - I couldn't use it without getting all wet. The pStyle is shaped just right, is the right size, just the greatest! Thanks so much for making the pStyle available for us!"
- Kat
"I am OVERJOYED with my new pStyle! No drips on the very first trial! This is one cyclist who will never have to squat at the side of the road again. I'll be telling lots of friends about it."
- Mary, Illinois
"This thing ROCKS!Awesome for parks, backpacking, kayaking, or even for long car rides ;) I'm so glad I found the pStyle, and I am getting one for all my friends!"
- J
"I wish I had one of these years ago when I did craft shows and re-enactments. I am now in my fifties and partialy paralyzed from an auto accident, This will sure make life a little easier, Thank you"
- Brenda
This is a brand new product, and carries a one year warranty against manufacturing defects. Because this is a sanitary product, returns will not be accepted for other than a problem regarding such warranty. If, upon receipt of your product, there is a problem, please contact us within three days of receipt and we will do our best to resolve the situation.

For all you outdoors ladies, this may be the handiest gadget you've ever purchased.!! Once you try it, you'll be wondering why someone didn't think of this before, and how you ever got along without it!!

Winners pay $2.95 USPS First Class Mail S&H with Delivery Confirmation anywhere in the USA. Priority Mail shipping is available for an additional cost. For additional units, please add $1.00 each to the S&H. Please allow up to three days handling time for processing your order. This item ships via USPS on Tuesday and Friday mornings, (UPS is NOT an option). Please take these time considerations into account when planning for anticipated receipt of your order. Payment by money order, cashier's check or PayPal is preferred and will assure prompt shipment. We accept Visa, MC, Amex, Discover and E-Checks via PayPal. Our PayPal account ID is kbhiltsley@aol.com. Personal checks are also welcome, but will delay shipment 10 business days to allow for check clearance.
MULTIPLE PURCHASES will be combined, wherever possible, to reduce S&H charges. Buyers should contact us prior to making payment to avoid overpaying S&H charges.
NO INTERNATIONAL SALES!!! Our experience with the international postal systems shows an increasing rate of extremely slow delivery times, high shipping costs, lost packages and damaged merchandise, all of which leads to a poor transaction experience for our valued customers. For these reasons, we will no longer accept bids from customers outside the USA. If you do not reside in the USA, or if shipment is to an address outside the USA. . . . PLEASE DO NOT BID!! International buyers that ignore these terms will be reported to auction management for rules infraction and will receive immediate negative feedback!!
If you have any questions, please feel free to e-mail us PRIOR to bidding at kbhiltsley@aol.com. Thanks very much for your interest and for your bid. Good luck and good fishin', huntin' and shootin'!!
Looking for more great shooting,
hunting and outdoors bargains?
Don't be like Old Jim here!!
Don't miss all these great opportunities!!
CHECK OUT OUR OTHER AUCTIONS
FROM THE LINK ABOVE!!
Payment Methods:

Money Orders, Personal Checks, Cashiers Checks,
---
Hide Pictures If you've got a slow modem, give this a try (must have cookies enabled) ...